Readiness of Banks in Intellectual Property-Based Financing
Keywords:
Creative Economy Actors, Intellectual Property-based Financing, Assessment and Execution of Intellectual Property guarantees
Abstract
The creative economy is an economic resource expected to become a pillar of Indonesia's economic growth. One of the ecosystems developed is intellectual property-based financing that arises from cultural heritage, science, and technology. From a banking perspective, intellectual property as an object of credit/financing guarantees cannot yet be accepted by banks because there are no technical guidelines for both valuation and the profession of intellectual property appraisal. In contrast, banks must adhere to prudential banking principles. This leads to the implementation of intellectual property-based financing practices still needs to be done by the bank. Furthermore, concerning the execution of intellectual property guarantees, the auction office still needs a legal basis for legal certainty in its implementation, particularly for forms of intellectual property guarantees in the form of contracts and collection rights arising from creative economic activities. Based on the research results, the following results are obtained: 1) there are no technical guidelines for Banks to accept the intellectual property as collateral objects; 2) intellectual property is a complex asset, so the Appraiser profession must be submitted to a public appraiser possessing expertise it is crucial in the domain of intellectual property to be officially registered with the Ministry of Tourism and Creative Economy. The auction office is willing to conduct intellectual property executions provided there exists a legal foundation associated with licensing. valuation, and legal protection of intellectual property to attract public interest in executing intellectual property auctions.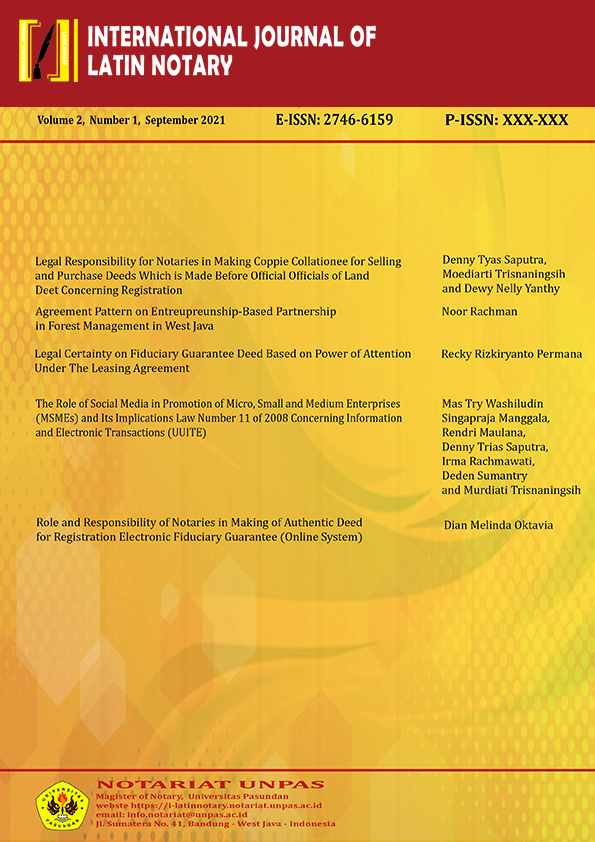 Downloads
How to Cite
Abubakar, L. ., Sugiharti, D. K. ., & Handayani, T. . (2023). Readiness of Banks in Intellectual Property-Based Financing . International Journal of Latin Notary, 4(1). https://doi.org/10.61968/journal.v4i1.60