Legal Consequence Towards An Authentic Act That Was Not Ready By Notary And Not Signed Jointly By The Parties Based On Law Of Notary
Keywords:
notary, authentic deed, responsibility
Abstract
It is not uncommon for procedures to deviate from the stipulated statutory provisions in the process of creating an authentic deed, particularly concerning bank credit transactions. This pertains to the procedure of reading and signing legitimate deeds prepared by a Notary, notwithstanding the Notary's responsibility to recite the deed in front of an audience, with at least two witnesses, and to have it signed simultaneously by the parties involved, the witness, and the Notary. The goal of this study is to evaluate the legal repercussions and obligations of a notary when a deed is not read by the notary and is not signed jointly by the parties. The descriptive-analytic method with a normative juridical perspective was used in this research. The research results show that legal sanctions for a deed that is not read by a Notary and not jointly signed by the parties will have consequences for the deed, namely reducing the evidentiary value of the original deed to a deed made privately. So, the accountability sanctions can be imposed on notaries, such as reprimands, dismissals, temporary termination from membership, even sanctions for dismissal (onzetting), and also dishonorable dismissal from associations, this is of course based on the Notary Office Regulations and their responsibilities that have been stated in the Notary Code of Ethics.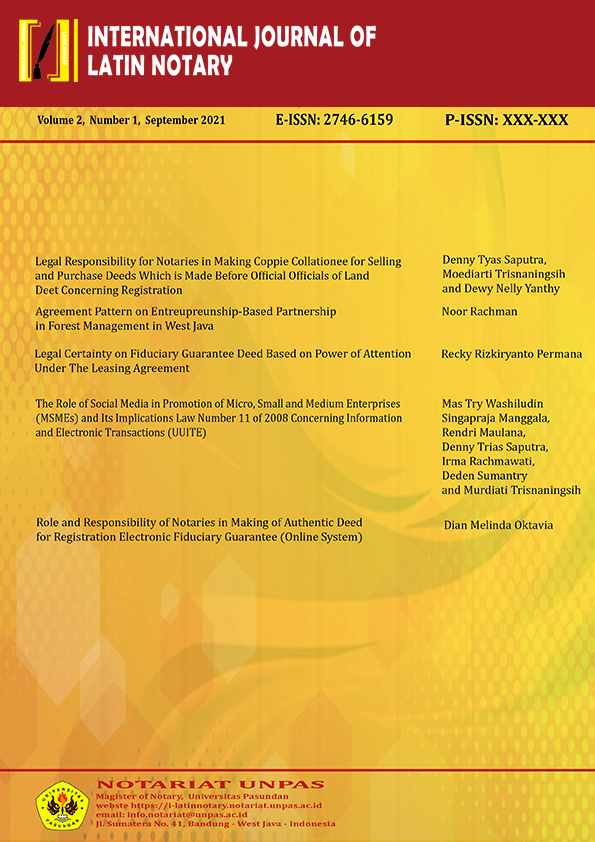 Downloads
How to Cite
Utarid, W. O. R. . (2023). Legal Consequence Towards An Authentic Act That Was Not Ready By Notary And Not Signed Jointly By The Parties Based On Law Of Notary. International Journal of Latin Notary, 4(1). https://doi.org/10.61968/journal.v4i1.57